GRIZZLY'S BEST FOR YOUR HONDA PIONEER 1000-3 SIDE X SIDE 
INCLUDES: PAIR OF "D" RING MOUNTS
INCLUDES:  HEAVY DUTY MOUNTS
INCLUDES: MOUNTING HARDWARE AND INSTALL INSTRUCTIONS
INCLUDES: FREE FEDEX GROUND TO LOWER 48 STATES
GRIZZLY'S PRECISION DESIGN 
ALLOWS THE FULL DUMP BED FUNCTION & THE FULL TAIL GATE OPENING! 
Free FedEx Ground Shipping to Lower 48 States!
Fabricated Customer Per Order  

Note Fabrication Lead Time: Est. 24-28 Business Days 

Precision Designed & Fabricated by Grizzly Metalworks

Never from Overseas!

Always USA Metal!
Lights, "D" Rings, Winch, Product Finish NOT Included 

NO REFUNDS, NO CANCELLATIONS, NO RETURNS - CUSTOM PRECISION DESIGNED & FABRICATED PRODUCT
 Raw Metal Finish !!
All Grizzly Products are Raw Metal Finish; Many Customers
Enjoy Prime & Paint for easy touch up after rugged play or work; OR Truck Bed Coating for a Textured Look; or LineX or Powder Coat at your Powder Coater so you will pick out the "sheen" you want for your Custom Product!
Each Grizzly Product is fabricated per order!
Never stored in a warehouse!
Never brought in from overseas!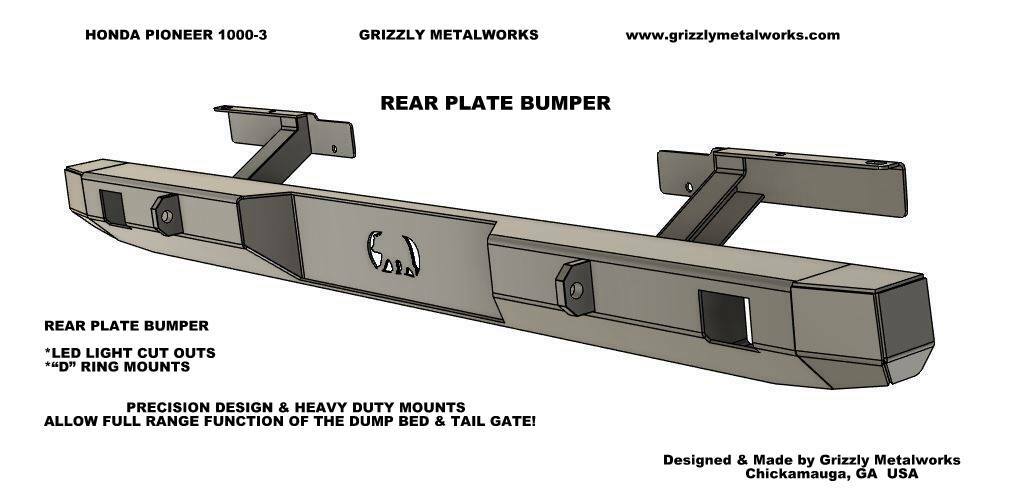 Raw Metal Finish (Not painted or powder coated)
Raw Metal Finish  - Not Painted or Powder Coated!!!
Grizzly's DIY Refurbishers Save $$ and Enjoy putting their own touches to Grizzly products!
 We are the DIY Specialist Seller of Premium Side By Side, Golf Cart and Truck/Jeep Products and Bumpers
Below is another High Quality Grizzly Metalworks Product
 for your Honda Pioneer 1000-3
Grizzly's Exclusive Front Winch Plate Bumper with Skid Plate!
(This is a SEPARATE PRODUCT AND 
NOT INCLUDED 
IN THIS LISTING!! If you are interested, please message us! 
IMPORTANT NOTES:
This Bumper works only with the OEM Stock Honda PioneersThis Listing Does NOT Include "D" Rings, LED Lights, Powder Coat, Paint, or the Honda Pioneer UTV or any other items in pictures except the Raw Metal Plate Bumper as Described.
Every Grizzly Product is Fabricated in our Shop Facility in Chickamauga, Georgia per order.  We do NOT warehouse any; each are custom fabricated!
NO OTHER MANUFACTURER OFFERS THIS CONCEPT TO CUSTOMERS...WITH THEM, YOU GET WHAT IS TYPICAL, AVERAGE AND CUSTOMARY...WE THINK OUTSIDE THE BOX!!
 WITH RAW METAL FINISH, YOU SAVE TIME & $$$$$$ WHILE CREATING YOUR OWN FINISHING TOUCHES ON YOUR CUSTOM PRODUCT... PRIME/ACETONE, PAINT, POWDER COAT, CAMO, RUBBER COAT, TEXTURE COAT.....MAKE IT YOUR OWN....FAR MORE THAN HALF OF OUR PRODUCTS ARE SOLD TO DIY BUYERS AND DEALERS!!   
Please Remember these are USA crafted products as is with all Grizzly Products..Not from Overseas...Not from an Assembly Line...Not warehoused!  Heavy Duty USA Fine Craftsman Design and Fabrication!
GRIZZLY is the Exclusive Manufacturer of Crafted, Heavy Duty UTV, Golf Cart & Truck/Jeep Bumpers and Products located in Chickamauga, Georgia... Our Products are Not from "Overseas"! 
IMPORTANT "DIY" FINISHING SUGGESTION:  You can save huge $$$ finishing the coating of your product yourself plus the satisfaction of watching your DIY talent, hidden talent and creativity come alive...IF YOU HAVE A GARAGE OR WORKSHOP, WE SUGGEST YOU CONSIDER FINISHING YOUR PRODUCT(S) YOURSELF IN LIGHT TEXTURED MATTE BLACK USING A METAL PRIMER OR ACETONE & BELIEVE IT OR NOT..."RUSTOLEUM TRUCK BED SPRAY COATING" OR RUSTOLEUM PROFESSIONAL SATIN OR SEMI GLOSS SPRAY!!  IT IS EASY & VERY INEXPENSIVE USING YOUR OWN TIME & TALENT.....JUST 3-4 EVEN COATS AND YOU WILL HAVE AN INCREDIBLE FINISH THAT IS RUGGED & DURABLE AND LESS COSTLY POWDER COATING.   PLUS IT IS EASY TO TOUCH UP AFTER YOUR HARD WORK OR PLAY, UNLIKE CHIPPED POWDER COATING THAT CANNOT BE TOUCHED UP EASILY ONCE IT IS SCRATCHED OR CHIPPED!! 
We are all for "hands on" and the "DIY Buyer"!!
GRIZZLY Products are a "Work of Fine Crafted Metal Artistry" for your UTV that will last!
They are Not "Flimsy, Cheaply Built Over-Seas or Assembly Line" accessories!   
EACH GRIZZLY PRODUCT IS CRAFTED PER ORDER..
WE DO NOT WAREHOUSE OR STOCK ANY PRODUCTS!