MONSTER EZGO 4 SEATER LIMO GOLF CART POWERED BY GAS SUZUKI VINSON 500 ENGINE - $5500
A "One of a Kind" EZGO 4 Passenger Limo/ATV 4x2 Engine Powered Beast - $5500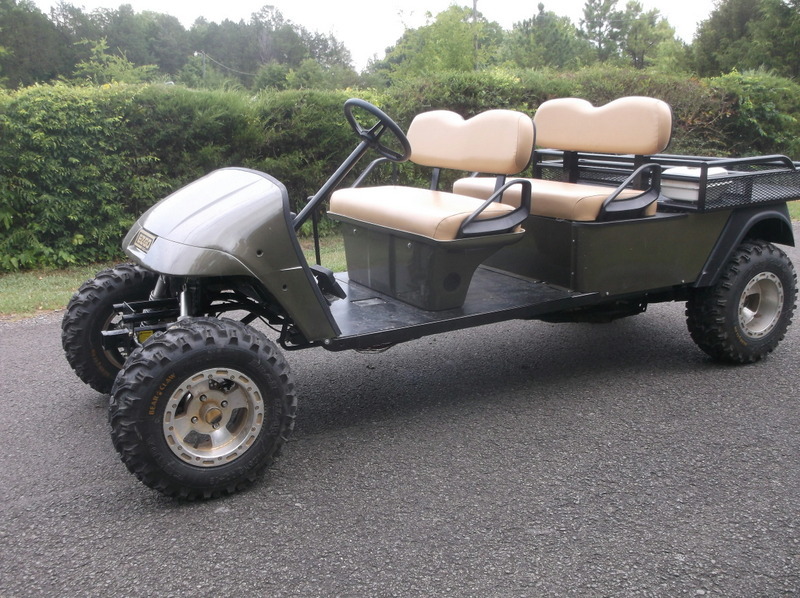 GRIZZLY METALWORKS' AMAZING EZGO LIMO GOLF CART IS THE ULTIMATE VEHICLE FOR OFF ROAD VEHICLE RIDING AT STATE PARKS OR CAMPGROUNDS, ETC. IN WHICH THE VEHICLE HAS TO BE 50" OR LESS.  THE BEST OF BOTH A GOLF CART AND AN ATV!!!  
THIS IS NOT FOR YOUR KIDS OR GRANDKIDS TO DRIVE.  IT IS POWERFUL AND UNIQUE..Always Safety First!
We began the Limo Conversion in order to ride local Off Road State Parks which do not allow the typical Side x Side UTV's but do allow a golf cart width..
It is being sold at this point of completion where a Buyer can enjoy it as it is now OR if you would like to order any Grizzly Products for it; i.e. Grizzly 4 Passenger Cage (either basic or with cage options); Front Winch Plate Brush Guard or Front Standard Brush Guard or a Grizzly Front Clays Basket or Rack!  If you Purchase a basic or premium limo cage we will include for FREE a Grizzly Heavy Duty Welded Interior Ammo Basket to the cage..(pictures of various options will be below.)  
Also, if you purchase additional Grizzly products or a cage...We will send to our Industrial Powder Coater for Matte Black Industrial Powder Coating for FREE - any of the products..a huge $$$..
PLUS...all Grizzly products or a Cage you do purchase at the time of this EBay purchase of the Limo will be at 35% off our web site pricing for all Grizzly Products....a huge $$$ for quality, handcrafted Grizzly Metalworks products.
DETAILS OF LIMO:
Custom Frame Up Build Professionally Completed by Grizzly Metalworks
EZGO Stretch Limo Conversion with 4 Forward Seating - Completed by Grizzly Metalworks
Powered by a 2002 Suzuki Vinson 500 Drivetrain
4x2
Automatic Transmission with High, Low & Reverse
Locked Rear End for Superior Traction
Long Travel Front Suspension with Disc Brakes Front and Rear
Newly Custom Painted Olive Green 
New Tan Front and Middle Seats/Seat Back Supports 
New Grizzly Metalworks Extra Large 36" x 48" Big Buck Basket
Runs Great; Easy Adult Driving Vehicle
New 25" Kenda Bearclaw Tires on Aluminum Wheels
New Long Travel Jakes Suspension
New Jakes Hydraulic Disc Brake Conversion
2002 Suzuki Vinson 500 Engine & Drivetrain - Water cooled Engine, Automatic Transmission with High, Low and Reverse Gears
New Grant Steering Wheel
New Spindles
New Tie Rods and Rod Ends
New Tan Seat Cushion Assembly
New Limo Pod
New Workhorse Body Panels 
LOUD AND FAST LIKE A 4 WHEELER.
LOCKED REAR END.
NOT A SISSY MANS GOLF CART. 
DON'T BUY IT THINKING IT WOULD BE GREAT TO LET YOUR KIDS RIDE IT BY THEMSELVES IN YOUR SUBDIVISION OR ANYWHERE.
THIS RIG WILL KEEP UP WITH YOUR BUDDY'S SIDE X SIDE AND MAKE HEADS TURN. 
THIS LIMO IS 50 INCHES WIDE SO IT IS CAPABLE OF RIDING ON ATV TRAILS THAT ARE 50 INCHES OR LESS. That is why we built it. The only side x side that can ride 4 passengers comfortably and go on 50 inch or less atv trails.   
Good Running from what we see and how it drives..no warranty...
Sold AS-IS!  We welcome Test Drives, Inspections, bring your mechanic...
We do offer affordable delivery or "meeting along the way" for distance buyers. 
Georgia Residents are required to pay 7% Georgia Sales Tax or for any buyer who comes to our shop to purchase it but who lives outside of Georgia, as it is a retail Georgia sale at that point...If you are an out of state resident, we meet many buyers in Tennessee which you would not be required to pay Georgia Sales Tax, but it does not eliminate your state's legal collection of sales tax there.  We provide a Bill of Sale for the transaction. 
For actual 3rd party pickups at our shop by a UShipper, Etc. on behalf of the out of state buyer, and if buyer lives out of state, we do not collect Georgia Sales tax.
Various Grizzly Product Options: Contact us for your discounted pricing