Honda Pioneer 500 - Grizzly's Winch Plate Bumper with Welded "D" Ring Mounts, PreRunner Hoop & Welded Light Tab for Buyer's LED Light Bar
GRIZZLY'S BEST 
FOR YOUR HONDA PIONEER 500
$249.95 Retail - Raw Metal
Option: $85.00 Industrial Powder Coat - Matte Black
To purchase - please email gailglenfield@comcast.net - we need your name, address, and details of your purchase - we will prepare an Invoice from PayPal our credit card merchant servicer and email to you for payment, you do not need a PayPal account; you may choose the option to pay by any Visa, MC or Discover. User Friendly!
HONDA PIONEER 500 SIDE X SIDE
Raw Metal Finish (Not painted or powder coated)
Includes:
PreRunner Hoop

2 Welded "D" Ring Mounts ("D" Rings Not Included)

Welded Light Tab on PreRunner Hoop for Buyer's Install of their LED Light Bar (shown on the pictures is a 12" LED Light Bar.)
Great Design location for your winch* under the included PreRunner Hoop- (PreRunner Hoop easily bolts to the Bumper)

Mounting Hardware - Mounts to stock 2017 Honda Pioneer's 500 Brush Guard !

Heavy Duty Design takes into consideration most buyers eventually upgrade the tire size - this Bumper allows good clearance for larger tires!
*Shown in the pictures is a Badlands 3,500 lb winch in the picture - Side by Side, Winch, lights, "D" Rings are NOT included - This Listing is for a Raw Metal Grizzly Honda Pioneer Winch Plate Bumper only!
Raw Metal Finish
-
Not Painted or Powder Coated*
OPTIONS:  **
**

Grizzly's finish is standard Raw Metal Finish - Buyer completes finish!! Use your DIY Talents - Paint, Truck Bed Coat, LineX or Powder Coat - you decide

OR

we can send it out to our outsourced Industrial Powder Coater for their incredible Matte Black, Low Sheen, Powder Coat $75 Add'l -

Please email us: gailglenfield@comcast.net to order the Bumper and any options; when you are ready to order, we will need your name, shipping address and we will prepare a PayPal Invoice for the $75 for the Matte Black Powder Coating along with the price of the Bumper & Shipping. (Please NOTE:  There will be 5-7 Business Days Additional at Powder Coat once we have

fabricated your Bumper!
Grizzly's Standard Finish is Raw Metal Finish  - Not Painted or Powder Coated!!!
Grizzly's DIY Refurbishers Save $$ and Enjoy putting their own touches to Grizzly products!
Grizzly sells over 90% of our heavy duty, handcrafted golf cart products
Raw metal
-
We are the DIY Specialist Seller of Premium Side By Side, Golf Cart and Truck/Jeep Products and Bumpers
100% made in the USA!     
100% USA STEEL!
This is NOT Shipped in from overseas!
12-15 Business Days - Lead Time
IMPORTANT NO
TES:
This Bumper is

Raw Metal Finish - Not Painted or powder coated

! Powder Coat is Additional- see details

This Bumper works Only with the OEM Stock Honda Pioneer bumper - we supply "U" Bolts and Hardware for mounting - Mounting holes for bolts are Buyers' DIY, easy install.
This Listing Does NOT Include "D" Rings, Winch, Winch Roller, LED Light Bar, Powder Coat, UTV or any other item except the Raw Metal Winch Bumper as Described.
Fabricated from 1/8" USA Plate
LED Light Bar shown is for visual only is a 12" LED Light Bar and is NOT included in this sale!
Winch shown in the pictures for visual only is a 3500 lb. Badlands winch and is NOT included in this sale!
"D" Rings shown in the pictures for visual only - they are 1/2" Galvanized "D" Rings and NOT included in this sale!
Fabricated & Designed by Grizzly Metalwork/Grizzly Winch Bumpers, Chickamauga, Georgia
Every Grizzly Product is Fabricated in our Shop Facility in Chickamauga, Georgia per order.  We do NOT warehouse any; each are custom fabricated!
Lead time once you have placed and paid for your order:  12-15 Business days Raw Metal with orders on the books and consistently coming in!
If you want your bumper Industrial Powder Coated Matte Black, we will send it out to our Industrial Powder Coater which they charge $75 add'l.  
Shown in the photos are the bumper Painted using a Primer and Rustoleum Professional Semi-Gloss Spray!!  Super easy - Affordable & easy to touch up more than powder coat!  

THIS LISTING IS FOR A RAW METAL DIY BUYER MUST COMPLETE FINISH

UNLESS YOU ADD THE POWDER COAT OPTION FOR $75 ADD'L.!!!!

No Refunds, No Exchanges, No Cancellations - these are all Custom Fabricated Per Order!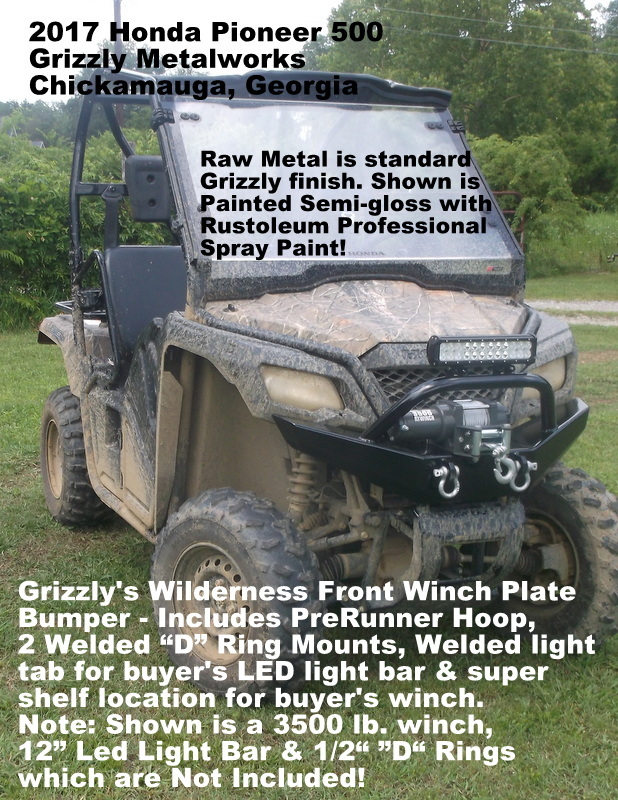 NO OTHER MANUFACTURER OFFERS THIS CONCEPT TO CUSTOMERS...WITH THEM, YOU GET WHAT IS TYPICAL, AVERAGE AND CUSTOMARY...WE THINK OUTSIDE THE BOX!!
 WITH RAW METAL FINISH, YOU SAVE TIME & $$$$$$ WHILE CREATING YOUR OWN FINISHING TOUCHES ON YOUR CUSTOM PRODUCT... PAINT, POWDER COAT, CAMO, RUBBER COAT, TEXTURE COAT.....MAKE IT YOUR OWN....FAR MORE THAN HALF OF OUR PRODUCTS ARE SOLD TO DIY BUYERS AND DEALERS!!  
*Industrial Powder Coating is an Additional Option - We out source our Powder Coating - Matte Black or Gloss Black - Their Cost is $75.00; let us know and we will Invoice you for that amount when you place the order..
Their lead time after our fabrication is estimated 5-7 Business Days...
We will then pick up the Front Winch Plate Bumper after their completion and send to our Shipping Department for hardware, install instructions and Boxing..then deliver to FedEx Ground; at which time we will send you the Tracking Number.  
Please Remember these are USA crafted products as is with all Grizzly Products..Not from Overseas...Not from an Assembly Line...Not warehoused!  Heavy Duty USA Fine Craftsman Design and Fabrication!
GRIZZLY is the Exclusive Manufacturer of Crafted, Heavy Duty UTV, Golf Cart & Truck/Jeep Bumpers and Products located in Chickamauga, Georgia... Our Products are Not from "Overseas"! 
IMPORTANT "DIY" FINISHING SUGGESTION:  You can save huge $$$ finishing the coating of your product yourself plus the satisfaction of watching your DIY talent, hidden talent and creativity come alive...IF YOU HAVE A GARAGE OR WORKSHOP, WE SUGGEST YOU CONSIDER FINISHING YOUR PRODUCT(S) YOURSELF IN LIGHT TEXTURED MATTE BLACK USING A METAL PRIMER & BELIEVE IT OR NOT..."RUSTOLEUM TRUCK BED SPRAY COATING" OR RUSTOLEUM PROFESSIONAL SATIN OR SEMI GLOSS SPRAY!!  IT IS EASY & VERY INEXPENSIVE USING YOUR OWN TIME & TALENT.....JUST 3-4 EVEN COATS AND YOU WILL HAVE AN INCREDIBLE FINISH THAT IS RUGGED & DURABLE AND LESS COSTLY POWDER COATING.   PLUS IT IS EASY TO TOUCH UP AFTER YOUR HARD WORK OR PLAY, UNLIKE CHIPPED POWDER COATING THAT CANNOT BE TOUCHED UP EASILY ONCE IT IS SCRATCHED OR CHIPPED!! 
We are all for "hands on" and the "DIY Buyer"!!
GRIZZLY Products are a "Work of Fine Crafted Metal Artistry" for your  Side x Side that will last!
They are Not "Flimsy, Cheaply Built Over-Seas or Assembly Line" accessories!   
EACH GRIZZLY PRODUCT IS CRAFTED PER ORDER..
WE DO NOT WAREHOUSE OR STOCK ANY PRODUCTS!
THEY ARE CUSTOM BUILT...
BELOW:  SHOWN IS A SEPARATE GRIZZLY PRODUCT WHICH IS AVAILABLE TO PURCHASE - GRIZZLY'S ULTIMATE REAR FLIP SEAT ASSEMBLY - WELDED MAIN FRAME FOR EASY INSTALLATION - INCLUDES NEW BLACK SEAT CUSHION SET - WITH DESIGN WHICH ALLOWS INTERIOR BEHIND THE SEAT STORAGE FOR TOOLS, OFF ROADING ITEMS, COOLERS, ETC.
THEY ARE ABSOLUTELY  PRECISION CRAFTED PER ORDER; Then they are sent to our Shipping Department for thorough wrapping and boxing, gathering of hardware and delivery to FedEx Ground; at which time we will email you the tracking number...