Copy of POLARIS RANGER 2 & 4 PASSENGER MID SIZE 500 & 570- 3 Stealthy Products: (1) Rear Flip Seat Welded Assembly (2) Front Winch Plate Bumper W/Skid Plate (3) Rear Winch Plate Bumper
 #2 PRODUCT:  BELOW: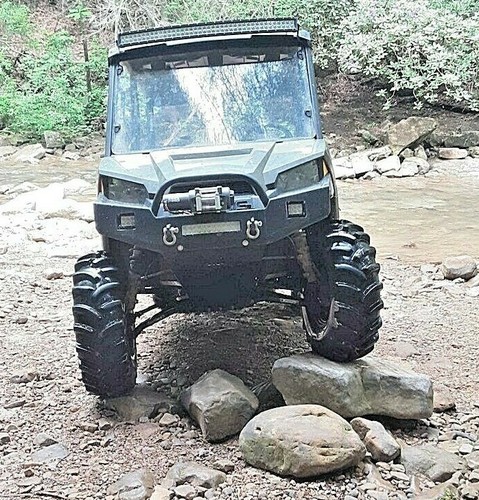 Grizzly's Ultimate and Exclusive Stealthy Front Winch Plate Bumper with Skid Plate for your Polaris Ranger 500/570 Side x Side; WITH GRIZZLY'S EXCLUSIVE TRUCK/JEEP DESIGN!! INCLUDES LIGHT CUT OUTS, LED LIGHT BAR CUT OUT; Heavy Duty 1/8" Plate!
       Special Website Pricing:  $325.00 + Shipping, Raw Metal Finish
Includes:
Grizzly's Exclusive "Truck/Jeep" Design for your Side X Side
2 Welded "D" Ring Mounts for your 1/2" "D" Rings
Welded PreRunner Hoop
2 Semi-encased LED Square Light Cut Outs 
LED Light Bar Cut Out (works with 12" LED Light Bar)
Easy Mounting Location for your 3500 lb to 5000 lb Winch
Please Email:  gailglenfield@comcast.net for additional information or to place an order.  We Invoice through PayPal, our credit card merchant servicer, you do not need a PayPal account, you may pay by any debit or credit card.  We detail out the build and email you the PayPal Invoice; user friendly; then place your order on the fabrication schedule.  To order and run the shipping:  we need your billing and shipping address.
#3 PRODUCT BELOW: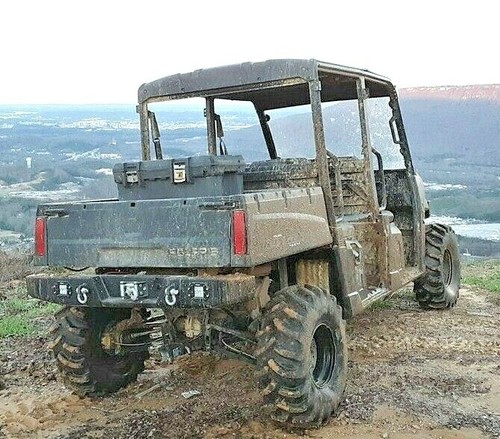 $325.00 + Shipping, Raw Metal Finish
(email: gailglenfield@comcast.net for shipping price according to your location)
REAR WINCH PLATE BUMPER-
(Grizzly's Impressive Truck Bumper Style for your Polaris Ranger 500/570 Midsize!)
Includes:
Low Profile with Hidden Winch Behind the Bumper
Typically a 3,500-5,000 lb. Winch
Extra Strong Mounting Brackets & Design

Two 4" Square Light Cut Outs for your LE

D

Li

ghts
 Grizzly's Exclusively Designed and Custom Fabricated per Order with Several Unique Options which may be added.
 GRIZZLY'S CUSTOM REAR FLIP SEAT WELDED ASSEMBLY
Instantly turns your

2 Passenger Polaris Ranger Mid Size 500/570 into a comfortable and stealthy 4 Passenger!

 
And if you have a 4 Passenger Model,

it will instantly turn it into an incredible comfortable and stealthy 6 Passenger Side x Side!!
Below:  Heavy Duty Rear Flip Seat with options, shown in the Open Rack Position for all of your Farm, Ranch, Yard, Hunting, Off roading, Camping Gear, Tools and other items!
 This is an ultra heavy duty, precision design for sturdy, rugged use but with comfort in mind!
This Complex Extra Heavy Duty Product is Amazingly Easy to Install with Grizzly's Unique Heavy Duty Design which incorporates the Main Frame is Welded - No confusing Bag of hardware for the multiple mounting locations!    
Buyer will easily mount the new Black Upper Seat Back cushion & then install the Base Cushion to the Flip Frame Section - The Flip Frame Section quickly bolts to welded Main Frame Unit!

INCLUDED:

  Additional Frame Supports bolt to the Polaris Ranger's Frame mounts which prevents the bed to dump or lift with Rear Seat Assembly installed..easy to remove Seat & Mounts as needed

INCLUDED: 

 

Quality New Black Seat Cushion Set

INCLUDED:

 

 Welded Sheet Metal Muffler heat shield - no more open exposed muffler at the rear!

INCLUDED:

 

 Huge

 

46" x 43" 13 Gauge Expanded Sheet Metal Big Buck Rack (when in the flip position!) 

INCLUDED: 

 

Mounting Hardware and Install Instructions

INCLUDED:  We will construct a new freight pallet for the shipping with wrapping and securing and Delivery to the Freight Terminal in Chattanooga, TN after our fabrication.

 

Fabrication in Chickamauga, Georgia, USA - Not from overseas or Assembly Line Built and stored in a warehouse

BUYER WILL EASILY INSTALL THE BASE CUSHION TO THE FLIP SECTION
We do order the Polaris Ranger 500 570 Mid Size Rear Seat Cushion Set in Black from our supplier - it is a Premium Rear Seat cushion set - not flimsy - not cheaply made. 
All Metal Fabrication is done 100% at Grizzly Metalworks Shop in Chickamauga, GA! 
UNIQUE OPPORTUNITY FOR AN ORIGINAL GRIZZLY METALWORKS 
CUSTOM PRECISION DESIGNED HEAVY DUTY
 EXTREMELY EASY INSTALLATION AS THE MAIN LARGE SEAT ASSEMBLY IS WELDED - INSTALL IN ABOUT 20 MINUTES!!
 (Must be Factory, stock Polaris Ranger 500 570 with stock rear bed that comes with that model! You may message or email us with a picture of your Ranger if you have any questions about modifications which may not allow this to fit...)