About Us

Most Golf Cart Products & Personalized Custom Metal Art Work Signs will ship FedEx Ground, which can be FedEx Ground for Home Delivery or to a Business...Several Side x Side Bumpers also ship FedEx Ground. 
All Truck & Jeep Bumpers, Rock Sliders, Side x Side Rear Welded Seats, Rear Welded Seat with Welded Baja Cage and Big Buck Baskets & Larger Products will ship Freight. 

 

FREIGHT MUST BE SHIPPED TO a Commercial Business Location that has standard open days and hours for Freight delivery (Monday - Friday 8 a.m. to 5 p.m.) You must let us know the Name of the Business and Address to run it through Central Transport for validation.  No Home Based Businesses, Farms, (See Exclusion Snip it Below or Message us)
We order the Detailed Bill of Lading through Central Transport and will need the following accurate details for smooth Freight Shipping at the end...we must be very detailed.
We Only Freight and FedEx Ground ship to the Lower 48 States of USA!  We do not ship to Canada or other locations outside the "Lower 48" but can ship to your family or friends in the USA for your pickup at their location
NOTE: If your Product Requires FREIGHT Shipping and THE BUSINESS IS NOT YOUR BUSINESS OR IF YOU WILL NOT BE THE ONE RECEIVING THE FREIGHT AT THAT BUSINESS such as another person, friend or family member who will receive the freight for you...WE WILL NEED their phone # AND NAME...OR WE CAN SHIP TO A Central Transport Freight Terminal if in a location that you are able to drive to pick it up. 
There is a drop down menu if you check "Central Transport Terminal" for Shipping OR  EMAIL: gailglenfield@comcast.net PRIOR TO PURCHASE WITH YOUR ZIP CODE and we can help andl RUN THE CLOSEST CENTRAL TRANSPORT FREIGHT TERMINAL LOCATION WHERE YOU COULD PICK IT UP, IF IN A VIABLE DRIVING DISTANCE TO YOU. Most Central Transport Freight Terminals have pickups during daytime hours and week days, but can be more convenient than having it shipped to a business!
 We do Offer to Meet Customers from Nashville, Knoxville, Atlanta, Birmingham, etc. in a convenient location around the Chattanooga, TN area, or North Georgia etc. instead of Shipping; We meet Many buyers of Multiple Products or the Large Front Winch Bumper Builds and Rear Welded Flip Seat Assemblies, etc. if we agree to meet - we do Not Charge any Delivery or Shipping, but please email: gailglenfield@comcast.net prior to purchasing and we can PayPal Invoice you with details of the meeting arrangement.
Please remember is you live OUTSIDE of Georgia and you want to meet in a Georgia Location - let's say you are from Alabama and want us to meet in Georgia, WE MUST THEN COLLECT 8% GEORGIA SALES TAX AS WE HAVE DELIVERED TO GEORGIA...If we meet a Buyer from OUTSIDE of Georgia in Tennessee...then we DO NOT have to collect the 8% Georgia Sales Tax...We abide by all lawful requirements!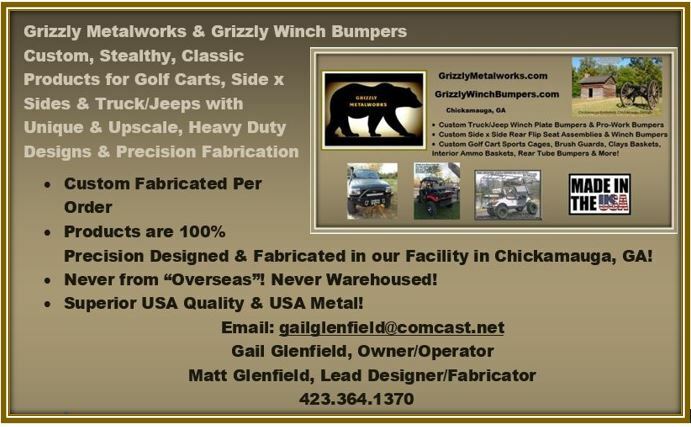 All Grizzly Metalworks Products are Designed and Precision Fabricated in our Family Owned and Operated Facility in Chickamuaga, Georgia; located about 20 miles from Chattanooga, TN.
All Products are Fabricated Per Order. 

NO REFUNDS, NO RETURNS, NO CANCELLATIONS.

All Materials are ordered out immediately - and the complex design and build phases begin. 
You may place an order online OR you may email:

gailglenfield@comcast.net

if you are purchasing a complex product build. 
We then will obtain all details of the build and shipping as needed, Prepare a PayPal Invoice and email to you for payment with the detailed information on the Invoice.  You may pay by a credit or debit card or PayPal.  You do not need a PayPal account, they are our credit card merchant servicer.
Each Product is Custom Fabricated Per Order with a

Fabrication Lead Time

according to the Product with the High Volume of Grizzly Product Orders:

10-15 Business days Custom Personalized Metal Art Work Signs;

 

20-24 Business days Golf Cart Products and 24-30 Business days for Side x Side Products & also Truck/Jeep Bumpers, etc. 

We Create Unique and Heavy Duty Products for Side x Sides/UTV's such as Grizzly's Custom Rear Welded Flip Seat Assembly with many unique Options; Winch bumpers, Hunting Rear Baskets & More...plus for Trucks & Jeeps Grizzly's High Quality Front Winch Plate Bumpers and also Non-Winch Bumpers; for Golf Carts we exceed the typical "golf cart" products with Custom Built Front Clays Baskets using heavy duty 13 Gauge Expanded Sheet Metal, not "mesh"; Interior Ammo Gear Baskets, Rear Tube Bumpers and More..
Grizzly Metalworks Products are Never from Overseas!  We Never Stock them or Warehouse them we Offer an Extensive amount of Buyer Options they may choose to Customize their Grizzly Product when you place an order!   Each is Custom Fabricated Per Order.  
We only Ship

Raw Metal Products (except for Personalized Custom Metal Art Work Decor Signs)

 For buyers to complete with prime & paint - easy to clean up after rugged fun or work; or for  Buyer's local powder coater so you can see their own sheen; LineX or Truck Bed Coating or even Professional Paint..
100% USA Metal - not Inferior "overseas" metal.
We hope to exceed your expectations for Precision Product design and High Quality with Unique Products that no other Manufacturer Creates!
Grizzly Metalworks - Gail Glenfield - Matt Glenfield Owner/Operator  Chickamauga, GA